Wilson Ozzy Adventure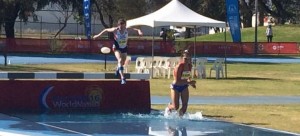 STRUTH SPORT! NOW IT'S A MEDAL!!
Julie Wilson has won a bronze medal in the 45-49 2000m steeplechase at the World Vets' in Australia. Her time was 8:10.23. Well done from all at the club. Our only previous World Vets medals came from Dianne Chisholm and Audrey Munro in 1999.