WEEKEND AHEAD – AND OTHER BITS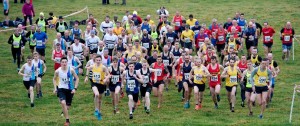 THE WEEKEND AHEAD – AND OTHER BITS By Charles Bannerman
Unfortunately our top man John Newsom won't be running in tomorrow's Nationals at Falkirk due to a back injury which also looks likely to keep him out of the Scottish Marathon Championship (otherwise known as The London Marathon) on April 23rd.
However there will still be a big club presence at Falkirk, as shown by the notice elsewhere that the club bus is now full.
I won't be there myself but hopefully ongoing results will find their way on here at some point.
I'll also take this opportunity to flag up the club's Craig Dunain Hill Race on March 18th. Details of start time and entry arrangements will be forthcoming soon. It may be useful to mention that this is a senior race.
The 7pm adult endurance group has been going well, with numbers not infrequently into double figures on Tuesdays and Thursdays. The current programme has been written up to the Inverness Half Marathon to suit those doing that and the consensus is that the athletes want this to continue.
I will therefore get the next phase of the programme up on the wall in the club hut in time to ensure a smooth transition.