Weekend Action and News roundup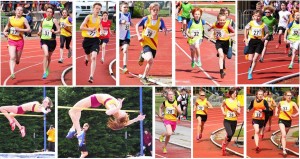 Good luck to all the club Athletes and coaches who are making the long journey to Bedford for the English Athletics Age Group Championships. This is a fantastic competition for young athletes competing against the very best in Britain at their age.
The Petrofac Final takes place on Sunday at the Queens Park and events kick off at 12 noon.  A full list of events is available HERE.  Good luck to the club athletes and remember to take sandwiches and cakes for the catering.
There have been some excellent performances recently with Ross Fraser and Stephen Mackay sharing the Male Athlete of the games at last weeks Glenurquhart Gathering and Corinna Marwick won the Female title.  There was also success for Harriers women in the 10 mile challenge trail race with Caroline Marwick coming in first female.
Jenny Bannerman had 2 great performances over 5k and 3k.  Jenny travelled to Kirkcaldy for the Beveridge Park 5k road race last Friday and was rewarded with a PB  and course record of 17.18.  On Wednesday Jenny ran 10 mins flat for 3k to win the Pinto 3k series. The Harriers women had a great night at Cooper Park with Sarah Liebnitz in 2nd, Roma Shepherd (celebrating her birthday) in 3rd and Jackie Mair in 5th.  Dean Kane finished 6th overall in 10.18.  Well done guys.
The club championships have been in full flow over the past 2 weeks and there have been some strong performances, surprise results and plenty PBs.  Results to follow shortly.
Well done and good luck to all athletes.  Please remember to email invernessharriersphotos@yahoo.co.uk with any news or results as it is difficult keeping track of all the events and updating the website with everyone's achievements.