Joggers brave the Lossie wind, club handicap and Xmas relays update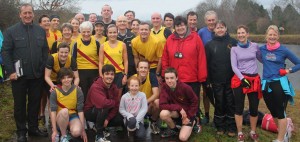 Lossie Turkey Trot – 10 mile road race championship.  Congrats to Alison Wilson for a pb of 1.09.30 in todays 10 mile Lossiemouth Turkey Trot and Paul Miller 6th overall and 2nd vet in 59.50.
Also putting in great performances were Lee Ross (1.29) and Sylvia Main (1.37) who braved the windy conditions to represent the Wednesday night joggers with aplomb.  Hill specialist, and 4th best runner in the family, Stuart Wilson came home in 66.26.
RESULTS HERE
Club Handicap – Another big turnout of Gold and Maroon on the canal banks today.  Results and photos will be available asap.  Well done to everyone who turned out.
Christmas Relays 15th December – Next Sunday we need a big turnout for the Christmas relays – Registration is at 12 noon sharp and it is vital to get down early so we can sort out the teams and start promptly at 1pm.  Fancy dress is not compulsory but certainly encouraged.
Club Cross Country – 18th January 2014 – The club are looking for a number of volunteers to marshall, help with catering, set the course and generally help out on Saturday 18th January.  The other clubs have put on some great XC hospitality so far and it is the turn of IHAAC to put on the event.  If you are able to help on the day please contact Ross Nixon on rjnixon999@tiscali.co.uk or leave a message on the facebook page.
More details to follow