Weekend Action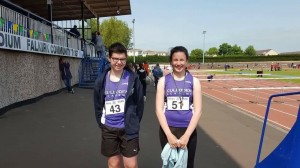 After his success at Scottish Schools in Grangemouth Matt MacFarlane went onto Throws Grand Prix  in Livingston  and has thrown another  New PB  today  in hammer now 47.40.  Excellent day Matt.
Reports of some fantastic running by the Harrriers contingent at the British Milers' Club meet in Glasgow last night. Congratulations to 3k masters winner, Julie Wilson, 800m runners Stephen Mackay (1.51.91) Joe Arnaud (1.58.75, PB) Eoghan MacNamara (1.59.34 PB) and Craig Campbell in the 3k (8.53.27 PB). A great night's work – well done all!
What a week for Matt MacFarlane  today he has won group C Boys hammer at Scottish Schools with a new PB of 47.39 and fellow Culloden Academy pupil Rachel Mackennan has won gold today in group C hammer with a new PB 39.61. Fantastic result for the Harriers athletes.
If anyone has reports on Newtonmore 10 or any other events, email me at rpcoltrane@hotmail.co.uk or post to Facebook