The Club Needs You – Urgently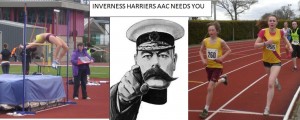 THE CLUB NEEDS YOU – CAN YOU HELP??
The track and field season is just a few weeks away and Inverness Harriers needs YOU to help ensure that track and field events can go ahead.  The club is DESPERATELY short of adult volunteers to be track and field officials.
Don't be put off by the term "official", the roles that officials carry out varies greatly in responsibility ranging from holding measuring tapes, filling in results, and assisting more senior officials.  The club simply does not have enough volunteer staff at present to guarantee that events can be staged.
The club needs adults such as Parents, friends or family members to help to ensure that our young athletes can compete.
CAN YOU HELP??
On Saturday the 16th March at Queens Park a FREE training session will take place to train anyone who is willing to help.
There are currently 6 people who have expressed an interest, but the club needs many more than this.
The future of Track and Field events is reliant on more officials, so please, if you have a son, daughter, friend or relation who is competing, get involved by contacting Duncan Flockhart on 793479 or 07749880300