Road Relay first for ladies club quartet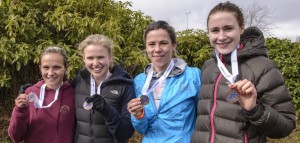 There was a spectacular boost for the club and the North at Livingston on March 29th when Mhairi MacLennan, Sarah Liebnitz, Catriona Fraser and Jenny Bannerman became the first team from the area to win medals at a national off-track senior championship.
The event was the Scottish road relay championships where Mhairi put the team in the lead with 17:59 on the opening 3.1 mile stage and Sarah kept them in touch with 36:38 on the next 5.8 mile leg for fifth place. A short lap of 19:54 from Catriona kept them in fifth while on the final 5.8 mile stage Jenny picked up two places with a time of 33:48 to confirm the bronze medals.
The top two places went to Lothian and Fife. Among 150 runners, Mhairi had the second best time across the two short laps and Jenny was equal third fastest on the long stage. Catriona was 17th on the short leg and Sarah 21st on the long.
The team were advised, assisted and transported by Charlie Bannerman hence the unofficial team title "Charlie's Angels". Well done ladies.