PAUL IN FOR THE LONG HAUL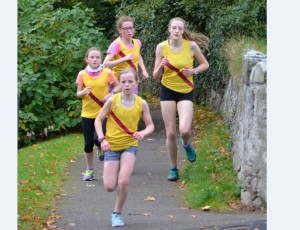 PAUL IN FOR THE LONG HAUL
Paul Davidson is more used to winning disability sprint medals in places like Turkey, but this afternoon he instead turned his attentions well up distance to claim victory – with a sprint finish nonetheless – in the opening club handicap (4.2 miles) round Holm Mains.
Paul just pipped the leading woman Jo MacDonald who made a (very!) late decision to run and Ross Cairns was third. Finlay MacLennan (23:54 – another of our disability athletes), James Geddes (24:01) and Jenny Bannerman (24:20) had the fastest times.
There was a field of 18 (11 men, 7 women) despite a number of club members being away doing the Aviemore 10K….. or at least part of it!! A course error led to the distance only being 8.2K! Entrants will doubtless be not too happy about value for their very substantial entry fee here, but at least times wouldn't have counted for Power of 10 anyway since the race is downhill and doesn't have a Scottish Athletics permit.
Alasdair MacDonald was a clear winner of the boys' club handicap and Islay Rutter the girls'.
Peter Marwick again handicapped the senior race and did a fine job on his first attempt at the junior events where 4th to 12th in the girls' race finished within 8 seconds and 3rd to 8th in the boys' within 5 seconds.
PETER WILL POST FULL RESULTS ON HERE LATER IN THE DAY