North District X/C Success for Harriers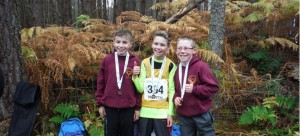 North District X/C Success for Harriers
It was another great day for the Club at Spynie where the weather was kind and coarse conditions were favourable for some great races,the club amassed 14 individual medals and a team dominating performance of 8 golds and a bronze from a possible 10 team titles.
The U13 girls,U15 girls,U15 boys and U17 men continued their dominance this season all winning team golds and the U13 boys managed a hard thought bronze only losing out by the od…d point in making it a junior age group clean sweep.
The seniors kept the medal tally going by taking all team golds in the senior men,masters men,senior women and masters women with individual medals for Sarah Liebnitz winning silver in the womens race,John Newsom also took silver for the senior men and not to be out done Paul Miller and Andy Macrae took silver and bronze respectively in the masters age group but medal tally of the day goes to Veteran Julie Wilson for winning an individual bronze in the ladies masters then taking double gold for the senior ladies and masters teams.
Individual medal winners on the day were-
U13 Girls-Catriona Garvie Gold
U13 Girls-Kirsty Arnaud Silver
U15 Girls-Megan Keith Silver
U15 Girls-Emily Andrew Bronze
U15 Boys-Kieran Chalmers Gold
U15 Boys-Mackenzie Brown Silver
U17 Men-Aidan Ferry Bronze
U20 Men-Sean Chalmers Gold
U20 Men-Cameron young Bronze
Senior Women-Sarah Liebnitz Silver
Masters Women-Julie Wilson Bronze
Senior Men-John Newsom Silver
Masters Men-Paul Miller Silver
Masters Men-Andy Macrae Bronze
Many thanks to Moray Road Runners and Scottish Athletics for putting on and running a great Championships and a huge thanks to all the coaches,helpers and parents for putting in the hard work for the athletes to make it such a huge successful event for the Club.