UPDATED North District Relays News – with results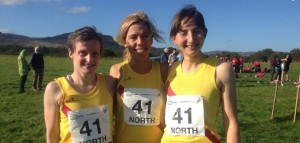 DOMINANT DAY AT EDDERTON by Charlie Bannerman (Updated with Results at the bottom)
Blistering opening legs by Sarah Liebnitz and Stephen MacKay at Edderton helped the club make it three North District men's cross country relay titles in a row and to regain the women's title on a day when we also held on to the boys' trophy.
Stephen's pedigree as a 3:50 1500m runner was more than evident when he set off at a pace which no first lap rival could match and steadily built up a lead of just over a minute with a time of 12:30 for the 3.8K course. This was also the second fastest in the entire race where Inverness Harriers produced three of the five top men's performances.
Gordon Lennox then weighed in with 12:37 followed by James Geddes (13:20) on his senior relay debut before Craig Campbell rounded it off with 12:34 for victory by 70 seconds over Moray Roadrunners whose Kenny Wilson (11:55) was fastest of the day.
There was a long debate before the women's race whether to put Sarah first or last and in the end she ran a superb opening leg of 14:12 to build up a huge and, we hoped, demoralising lead for our opponents which was further extended by Caroline Marwick (15:28). Julie Wilson (16:27) held on to take the trophy back from Forres by a margin of 21 seconds at the end of a gripping race where Anna MacFadyen's fastest leg of the race (13:45) had Forres closing fast.
In the boys' 3 x 2.6K race Lucas Cairns (8:56) put us in the lead towards the end of the under 13 lap and that was maintained by Luke Davidson with 8:37. Tam Munro-White then contributed the fastest lap of the race (8:06) on the under 17 stage to keep that title in Inverness.
Kirsty Arnaud, Catriona Garvie and Sophie Young took third place in the girls' contest.
It's clear that word travels fast on Facebook since, just a couple of days after a plea for Paula Ross to return to our midst, she did indeed appear at Edderton as a spectator – albeit still on her bike!
She had actually cycled all the way from Inverness – including a detour over the Struie and as far as Lairg (!) after taking a wrong turn near Evanton.