North District Cross Country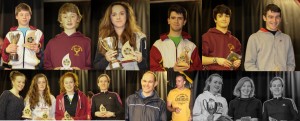 The Club had a great Cross Country season with many individual, age group and team prizes being won.  Full results are not yet available but following the final race of the year, over the challenging Forres course, a number of notable successes were apparent.  Sean Chalmbers dominated the under 17 section and will no doubt challange Kyle Grieg for the male title in years to come. The Senior womens team dominated the championship and were worthy winners of the team title.  Donnie MacDonald took silver in the male seniors event which is a great achievement given the quality of the field in this category.  Full details of all Harriers successes will be on the site as soon as possible.
Don't miss the fantastic photos of the season, and in particular the Forres races, on the Website.  Many thanks to Andy Shepherd, Grant Hassan, the Flockharts plus everyone else who has contributed.