NEW YEARS DAY MAST RUN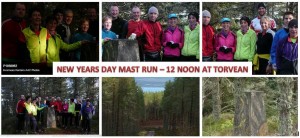 NEW YEARS DAY MAST RUN
The traditional New Years Day Mast run will take place this Wednesday 1st January meeting at 12 noon at the Torvean Bridge for a picture before setting off.  Runners all wait on each other at various points so that nobody gets left behind. It follows a route (or as close to it) that was the original run from years ago.
Important note that it is not a race and all run together.
Once the summit is reached you have to mount the OS post to wish all around a "Guid New Year"  some runners opt for a wee toast whilst this is undertaken which is highly recommended for the run downhill. Once back at the gathering point it has been known for runners to take a dip in the canal to cool down (great for getting rid of lactic), so bring along your bikini and budgie smugglers.