NDCCL Race 4 – Inverness – Marshalls, Helpers and Refreshments Required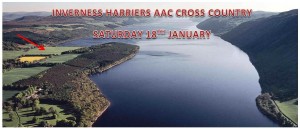 Next Saturday – 18th January- is our turn to host the North District Cross Country League match and this year it will take place over a new course at Dores.  Full details and directions can be found HERE
The success of the event relies on some help of volunteers on the day.  Ross Nixon is coordinating the event so if you are able to assist please call or text him on 07734960721.  The following are required;
Friday 17th January – 1.30pm – Course Set up – About 5 people are required to assist in setting up the course on Friday afternoon at 1.30.  If you are able to assist please meet at Loch Ness Car Park behind the Dores Inn at 1.30.  This will involve a 2.5 mile walk round the course laying out stakes and tape and should take about 2 hours.
Saturday 18th January – MARSHALLS.  About 15 Marshalls are required to direct runners and ensure safety.  Please contact Ross and meet at the race Start at 11.30am to walk the course and be allocated positions.  The first race is off at 1.15pm, this is the Under11 girls race with the last race being at 2.30 (senior men).  Most Marshalls will therefore be in position from 1pm until at least 3.15pm.  However, any seniors wishing to help and also race can assist in the Under 11s races as this section of the course will not be used after the completion of the U11 boy races. (See plan for details).  Help to tidy up the course afterwards will also be required.
CATERING – Alison Wilson is kindly coordinating the catering at Race HQ at the Dores Parish Hall and needs helpers for Teas and catering from 12.30 pm onwards.  Alison will be running the ladies race and therefore needs help to serve tea and look after the cakes while she is away.  If you can help please let Alison know or contact Ross who will pass on your details.
IT IS VITAL THAT ALL CLUB RUNNERS TAKE ALONG A CONTRIBUTION OF HOME BAKING, SANDWICHES, BISCUITS ETC IN ORDER THAT WE CAN PROVIDE THE HOSPITALITY THAT OTHER CLUBS HAVE SHOWN US OVER THE SEASON.
If you can offer any help it will be gratefully received and will contribute to the success of the event.