Cross Country Finale Falkirk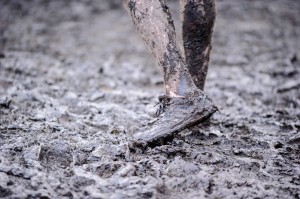 There was resounding success for the club in very difficult conditions against Scotland's mud running masses in the national XC championships in Falkirk on Sunday.  The weather played a big part in making the relatively flat grassy course around Callender Park into a heavy quagmire requiring brutal determination to complete.  Despite the unrelenting wind and rain the Inverness 'gold and maroon' party gazebo was full of high spirits and ready to engage in battle.
Some excellent team and individual finishes from all age groups included the u13 girls finishing 7th with Megan Keith (20), Catriona Garvie (41), Emily Andrew (48) & Eve Gardiner (55).
Other team places:
U13 boys 19th with Daniel Johnston (27), Reagan MacDonald (124), Paul Wilby (137) & Gordon Manson (140).
U15 Boys 9th with Aidan Ferry (16), Joe Arnaud (44), Alex Geddes (53) & Craig Wilson (81)
U17 Boys 6th with Luke Shaw (13), Cameron Young (26), James Geddes (45) & Andrew Johnstone (63)
Senior Men 14th Paul Miller (68), Donnie Macdonald (73), Andrew MacRae (119), Kenny Steele (181), Grant Hassan (184) & Steven Worsley (334)
Senior Ladies 13th Helen Gertig (36), Caroline Marwick (80), Alison Wilson (112) & Julie Wilson (155)
Special mention to Mhairi Maclennan finishing 2nd in the U20 ladies and winning the team prize with Edinburgh Univ Hare & Hounds and John Newsom winning the Senior mens race for Central and coming home 15th overall.
Such a huge thanks to all coaches, officials, parents and indeed anyone who helped and travelled to Falkirk.  This race marked the end of the cross country calendar for most but it has been a very memorable season with the team ethos and spirit building with every race.