National Cross Country Championships – Callander Park Falkirk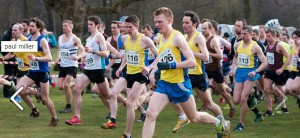 The Harriers had a fantastic day at the National Cross Country Championships at Falkirk yesterday with the U15 Boys doing the Club proud when Scott Lisle,Luke Shaw,James Geddes and Andrew Johnstone took home Silver in the team race. There were also some great individual performances from Sean Chalmers and Lauren Fraser who both finished 7th in their races,Mhari Maclennan had a good run to finish 8th in the U20 Womens race, Joe Arnaud continued his good form finishing 11th in the U13 boys, Heather Campbell finishing 15th in the U17 Women and Scott lisle,Luke Shaw and James Geddes finishing 9th 11th and 22nd for the U15 Boys team.
The men had a good day with Paul Miller being the first Harrier across the line with Andrew Macrae some 9 secs behind and followed in by Dean Cunningham,Grant Hassan and taking up the rear Keith Geddes.
A big thanks to the coaches Laurie Maciver,Grant Nairn and Charlie Forbes for their usual great job on the day and also many thanks to Alison Wilson,Mary Payne,Debbie Ross,Colin Hill,Charlie Maclennan,Doreen Campbell and Graeme Campbell for their tremendous support for all the athletes all day.
All results are available by click here scroll to the bottom of the page that opens on Scottish Athletics site