Moray Roadrunners 10k Road Race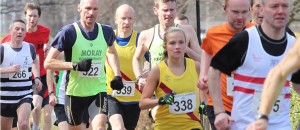 A sunny and calm day greeted the field of 167 runners in Elgins Cooper Park.  The race saw Tim Cooke (9th) and Jenny Bannerman (12th) post PBs on a course not known for its fast times – Great effort guys.  Jenny won the Female race with Roma Shepherd finishing 3rd.  Andy Shepherd took some great photos of the race which are available on the Photos link on the website.
Unfortunately one of the lead athletes was struck by a vehicle during the race and many of the racers times were affected by this event.  Praise must go to all those who stopped to assist the injured runner until the Ambulance was on scene.  Moray Road runners organised a great event again and the stupidity of one brainless driver should not overshadow their great work.
IHAAC Finishers
Tim
Cooke
MV
Inverness Harriers
36.36
Jenny
Bannerman
F
Inverness Harriers
36.52
Ross
Nixon
MV
Inverness Harriers
37.35
Roma
Shepherd
F
Inverness Harriers
40.16
Alex
Sutherland
MSV
Inverness Harriers
41.48
Ross
MacDonald
MSV
Inverness Harriers
47.43
Sarah
Shaw
FSV
Inverness Harriers
49.35
Julie
Wilson
FV
Inverness Harriers
66.2