URGENT – Membership NOW OVERDUE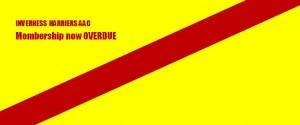 Club Membership is now well overdue.
IF YOU HAVE NOT PAID YOU
CANNOT

RUN IN CLUB RACES OR CROSS COUNTRY EVENTS.
Club membership forms can be found HERE or in the Download Menu
Club membership fees are the major source of funds that allows the club to operate, pay entries and pay the £660 a month bill for using the track .  Membership fees also allows the club to arrange club coaching, transport to events and many other things that ensure the club are successful, safe and enjoyable.
To compete athletes must be registered with Scottish Athletics and have a valid SAL number to compete in cross country and track and field events.  See your coach for details as the club pays the SAL for Under 17 athletes however Seniors should pay their own. Go to Scottish Athletics Membership site for details
Please pay your membership and return forms and money to membership secretary Charlie Bannerman or pass on to your coach.