LOUGHBOROUGH AND THINGS NEARER HOME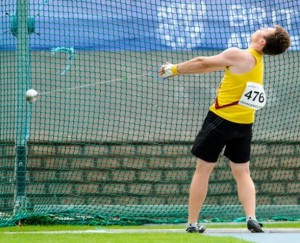 LOUGHBOROUGH AND THINGS NEARER HOME
Kirsty Law threw a season's best of 53.92m to take second place for Scotland in the discus at today's (Sunday's) Loughborough International. This was a record equalling 10th appearance for Scotland at Loughborough for Kirsty and her fourth runner up spot – fifth if you include when she competed as a guest in 2009.
Anna Nelson was fifth in the 400m hurdles for GB Students in 61.60 sec.
The highlight of the track and jumps mini meet which took place alongside Saturday's Throws Grand Prix at the Queens Park was Eleanor Briggs' PB of 25.46 in the 200 in wet conditions. She now adds this to the 100 and 400 PBs of 12.24 and 55.42 which she ran at the District Championships.
I am trying to source Throws GP results but unfortunately the link on the Scottish Athletics website is currently out of order.