Keith Cross Country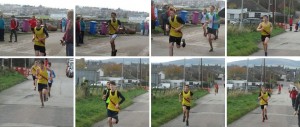 Thankd to Grant Nairn for the report
Today saw the second fixture in the North District Cross Country League and this time we all headed east along the A96 to Keith. The gold and maroon faithful turned out in good numbers and were rewarded with some excellent results on a bright but bitterly cold day.
First up were the U11 girls who took 2nd team place, with another great run from Melissa Mack to take individual 2nd place. The U11 boys followed, with Eric Robinson taking 2nd individual and the team 4th. The U13 girls had a fantastic turnout of 14 athletes and all played their part in taking 1st team spot. Megan Keith had a superb individual win. The U13 boys were next on the course and the squad of six took 1st team. Daniel Johnston came in second place with a great run.
The U15 girls and U17 women were run together so the results are a bit sketchy but Lauren Fraser had a superb run to win 1st in the U17 (no team placing unfortunately as she was the only Harrier there). Rachel Keith was the first gold vest in the U15 race, in a great 3rd place. It looks like Harriers took second team slot in this age group.
The U15 boys was a sea of gold and maroon with a whopping 12 athletes in the smallish field. Joe Arnaud came in 1st with a magic run and, along with his team-mates, took 1st team spot. The U17 men had a similarly excellent result with the four Harriers in the squad taking the first four places on the course. This gave them 1st team, while Luke Shaw had the honours of first individual over the line.
Thw senior women had a great turnout and with four athletes in the top eight it looks like they took 1st team spot. Unfortunately, a certain Mr Geddes was on the phone interrupting the recording of the results so I'm afraid I failed to get who came over the line and when! The Senior men were last out and another great turnout gave them second team position, seven points behind Forres. Donnie Macdonald was first Harrier over the line in 3rd position.
Overall, it was a fantastic performance by all who pulled on a Harriers vest, from the U11s right through to the Seniors. Particularly pleasing was seeing some new faces amongst the juniors, who were running either their first or second race. By their response it looks like the cross-country bug has well and truly bitten!
Finally, a big thank you to Alison, Fiona and all the parent helpers who assisted today, it was very much appreciated. A superb day out with a superb bunch of folk!
RESULTS  Available HERE 
Photos courtesy of Fiona Mackay can be found HERE