JUNIOR CLUB HANDICAP THIS SUNDAY (NO SENIOR RACE)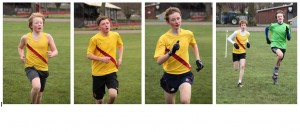 This Sunday sees the last Junior Handicap race before the Club Championships on February 9th.  There was an early proposal to hold an additional Senior club handicap race also, however due other commitments and fixtures this race will not go ahead.
The Junior race is the reverse Whin Park 1.25 mile race and athletes are requested to be at the club hut by 1pm.  Please bring along some refreshments to share afterwards, cake, sandwiches, juice etc.  Race starts at 1.30
The next club Senior race, and final handicap event, is the Club Championships on Sunday February 9th registration at 1pm with the Junior races at 1.30 and Seniors at 2pm.  This is the Senior hidden handicap which means everyone starts together with the first across the line being the Club Champion, however handicaps are deducted after the race so the Handicap winner is not known until all runners are home.  The junior race is a straight scratch race.
With both Male and Female senior titles going down to the last race,  Hugh and Caroline Marwick have a chance to make it a family double in their first season competing.  With daughter Elyn also poised for silverware in the junior event, Hugh has had the architect in drawing up plans for a trophy cabinet.  Ann Smart, Jenny Bannerman and Alison Wilson could all have a say in the destination of the female trophy with Ross Nixon and Tom MacWilliam in contention for the male title.
The handicapper has been working closely with IAAF and the IOC to ensure that the handicapping is accurate to at least a 100th of an hour.  Jenny Bannerman will be going all out to try and win the Senior race outright but last years runner up Finlay Maclennan and form runner Kenny Steele will be doing their utmost to make sure the size 2 pink adidas don't make it to the top step of the podium.