Joggers Update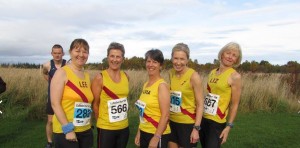 Update thanks to Fiona Mackay

There has been a good turnout of joggers in all the Cross Country events so far all, and all athletes are doing really well.

Sylvia, Wendy, Charlie, Jen, Lee, Iain,John,Elaine and Fiona Mackay did Knockfarrel and all survived and, according to Fiona, all but her will do it again next year !!

!Liz F, Laura and Charlie did Brodie and Liz G, Liz F,Denise and Joyce did the 10k at Culloden and Sylvia, Charlie J and Lee did the long run.

Keep up the good effort folks and remember;

It doesn't matter if you win or lose, so long as you lace up those running shoes!