Inverness Shines in Men's League Home Match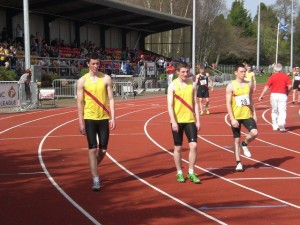 The Scottish Men's League, and some good weather, made a welcome return to Inverness on Sunday (June 14th). For the first time in nearly 20 years, the league travelled north for the second match of the 2015 season, with a number of Scottish and GB internationalists on show. An extremely young Inverness team finished a strong 5th on the day, just 11 points off 3rd. While it is difficult to mention all those who competed for Inverness, the spirit and determination of the entire team must not go unnoticed. Some particular highlights included Ali Beaton (100m, 2nd, SB), Stephen Mackay (1500m, 2nd, PB) John Newsom (5000m, 4th, SB) and Scott Fraser (200m, 5th, PB). Credit must also go to William Godding and Ross Freck for performing strongly after 2 days of long competition at the Scottish Schools in Grangemouth. Athletes including Stuart Michael, Eoghan Macnamara, Tony Golabek and Gordon Lennox succeeded in events which went unfilled by others and contributed significantly to the overall team score. However, the final word on the athletes must go to Adam Hobson and Alex Nicholson who epitomised the determination of the team by competing in multiple events which they do not train for, while also stepping in at the end to fill relay places. A tremendous effort.
Many thanks to those club members who attended to help make the match a resounding success. Your support on the day was appreciated by the league and competitors from all clubs. Finally, a special thanks to our regular officials Mary Payne, Karin Smith and Ali Cameron who have travelled with the team all over Scotland. They deserved a home match more than anyone and their dedication and support to the men's team cannot be overestimated.
Let's hope the Men's League returns to Inverness soon, and the sun even sooner!