Highland Cross & Nairnshire Weekend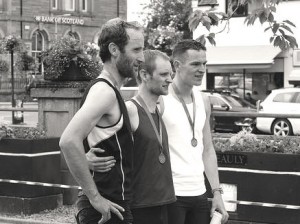 Two of the largest north events presented themselves on the same weekend again this year with the Highland Cross on the Saturday its little sister, the Nairnshire Challenge on Sunday.  A large number of the Inverness athletes tackled the monster Cross, a coast to coast Duathlon from Kintail in the West to Beauly in the East over 50 hilly miles.  Former two times winner and past Inverness member Joe Symonds took an early lead and held it to the finish to complete 3 wins in a row in a time of 3 hrs 19 mins.  Gordon Lennox had to settle for another 2nd place only 4 mins behind with Ewen McCarthy in 3rd (3 hrs 27 mins) making it an exact repeat of the 2014 podium.  The ladies race was won by debut "crosser" Janet McIver in 4 hrs 9 mins with  Louise Cartmell 2nd in 4hrs 13mins.  The podium was completed with Caroline Marwick in 3rd in a time of 4hrs 20 mins.
While most Cross competitors struggled to descend stairs on Sunday Gordon Lennox lined up against a few hundred fresh legged runners at the Nairnshire Challenge.  Despite a flat tyre at the changeover he still won the event in a time of 2 hrs 17 mins and will no doubt be seen charging around the track on Tuesday night.
Well done to everyone who completed and helped at both events which raise a massive amount of money for local charities.