Harriers Soar to PBs Galore!

The weekend saw Harriers perform exceptionally well in events across the disciplines and across the country.  Keith has posted a review of the Weekends Track and Field action with details of Road races added here.
LOCHABER MARATHON – A typical Fort William summers day (lashing rain and gail force winds) greeted the visiting Harriers who braved the A82 West to run the Team Strides 30th Lochaber Marathon.  Alison Wilson (3.23.18), Jodie Lynch (3.20.21) & Paula Ross (3.28.29) won the team trophy at Lochaber with all the girls posting PBs and Sub 3.30 times. Having completed his main job of the day in being taxi driver to his wife, Stewart Wilson also blazed round the course in 3.19.15.  Great Effort guys. Loads of Great photos from Andy Shepherd available HERE with Results and more Photos available on Lochaber AAC website Click HERE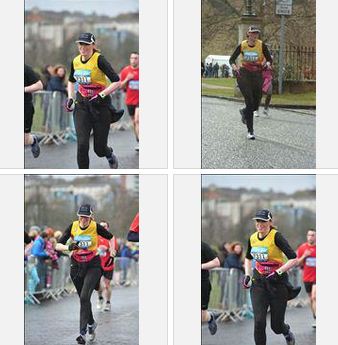 EDINBURGH ROCK AND ROLL HALF MARATHON – The trip down the A9 seemed like a good idea at the time and after a few wines Fiona Mackay, Lorna Fyfe, Elaine Barrie and Sylvia Main were ready to tackle the hilly, wet, cold and windy test that was this years Edinburgh Half Marathon. It was not a day for PBs but the girls had a great trip with Billy Skinners patter at Dinner being the only downside to the weekend.  Great effort ladies – Results and photos HERE 
GLENLIVET 10K –  Dougie and Averil Lamont flew the gold and maroon flag at this year's Glenlivet 10k in Malt Whisky country. It's billed as the loveliest run in Scotland, and while this might not be strictly true (other scenic races are available), it's certainly one of the best. Fortunately by the start time the weather had improved enough for them to actually see the scenery. Times were slower than usual because of a hilly course, but all the hard bits were in the first half, so negative splits were the order of the day. And as the race name suggests efforts were rewarded with a miniature in the goody bag!
IF I HAVE MISSED ANYTHING OR ANYONE PLEASE SEND DETAILS TO invernessharriersphotos@yahoo.co.uk