UPDATED – Harriers soar over Quarrelwood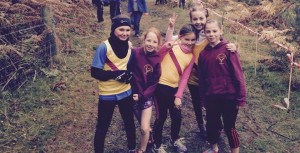 FULL RESULTS – CLICK HERE
It was a chilly, foggy start to the day as Inverness Harriers gathered for their latest fixture in the North District Cross Country League. The destination this time was Quarrel Wood, by Elgin for the third round race, hosted by Moray Road Runners. Fortunately the day warmed up (slightly!) and the fog had mostly cleared by the time we reached race HQ at Spynie village hall.
The course proved rather boggy in places following the recent poor weather, with the long drag up to the start/finish area particularly muddy. The many exposed tree roots in this section were another hazard, but fortunately there appeared to be no casualties. All in all, a nice technical challenge. A shift of finish line and funnel to just round the corner gave a final chance for runners to overtake and gain another valuable place, provided they weren't shattered from the slog up the tricky drag!
The races went off in the usual order, and the following is a summary of how the Harriers performed in each race. Positions and scores as recorded by myself should be pretty accurate, but I do retain the right to be wrong (can't be perfect ALL the time!!!  ) A link to the official results will be posted in due course once they are available).
U11 Girls – Team 2nd place. Melissa 2nd, Ruth 15th, Lauren 16th, Maisie 20th, Isla 24th
U11 Boys – Team 4th place. Eric 2nd, Finlay 16th, Sandy 24th, Ben 25th, Ivan 31st
U13 Girls – Team 1st place. Megan 1st, Emily 2nd, Eve 3rd, Catriona 4th, Rachel J. 6th, Eilidh 7th, Rachel G. 10th, Katie 11th, Mia 15th, Ailsa 17th, Maddie 18th, Regan 19th, Freya 21, Jessica 23rd
U13 Boys – Team 2nd place. Luke 3rd, Angus 10th, Reagan 11th, Fergus 12th, Christopher 15th, Gordon, 20th
U15 & U17 Girls – Unfortunately, as the U15 and U17 girls are run together (and I don't know which age group the other clubs runners are in) I don't know the finishing positions for our young ladies. However, Lauren definitely won the U17 race, and I believe the U15 girls were 2nd team.
U15 Boys – Team 3rd place. Alex 6th, Mackenzie 7th, Callum 9th, Rudi 10th, Stuart 11th, Craig 12th, Robert 14th, Finlay 17th
U17 Boys – Team 1st place. Luke 1st, James 3rd, Cameron 4th, Andrew 5th
Sen Women – Team 1st place. Helen 3rd, Caroline 5th, Catriona 7th, Julie 13th, Alison 14th, Roma 15th, Doreen 21st, Lisa 36th, Fiona 40th, Lee (missed your placing, sorry!)
Sen Men – Team 1st place. John 1st, Donnie 4th, Craig 5th, Paul 7th, Andy 11th, Tim 23rd, Jonny 25th, Tom 31st, Billy 33rd, Stewart 38th, Graham 40th, Harrier 55th (sorry, don't know your name!)
So, overall, another cracking day on a challenging course with a great set of results in both team and individual performances. It really is great to see so many wearing the Harriers colours. Many thanks go to Joan, Tom and Fiona for looking after the young athletes, as well as all the parents, families and friends who made their way to Elgin to support the club. A big thank you also goes to Mary, Ali and Steve for their usual excellent service at the start/finish areas and to Moray Road Runners for hosting another cracking day.
Next stop Dores for the North District Champs – c'mon the gold and maroons!!!