HAPPY REUNION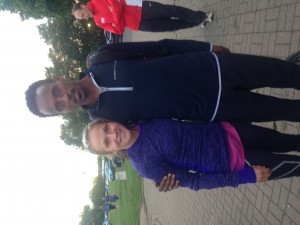 HAPPY REUNION
Jenny Bannerman's reunion with Scotland team mate Tewelde Mengisteab at the Brian Goodwin Memorial 10K in Glasgow on June 17th took place in happier circumstances than when they last met in Denmark six weeks previously.
On that occasion, Jenny underperformed on her international debut in the Lillebealt Half Marathon due to a combination of illnesses while Shettleston Harrier Tewolde had to drop out with a knee injury.
However next time round the Inverness Harrier slashed a minute and 18 seconds off the women's course record with a time of 35:37. Meanwhile former Inverness Half Marathon winner Tewolde, who arrived in Scotland as a refugee from Eritrea in 2008, won the men's race in 31:06.
Jenny was 39 seconds clear of the women's field in a race which incorporated the West District 10K championship although, as a North athlete, was only eligible for the race prize and not the District title.