Good day on the track and turf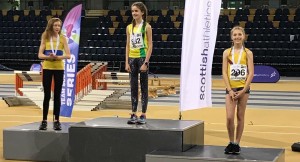 GOOD DAY FOR INVERNESS
It was great to see a U17 double sliver for Stephen MacKenzie (HJ and TJ) and bronze medals for Stephen MacKay (Sen 800), Finbar Dunne (U17 SP) and Emily Andrew (U17 1500 followed by the most delighted grin I've seen at a running track for a long time!) Angus Davron (6th U17 60m final) and Anna Nelson (4th senior 400) were among other strong performers.
Please remember that these championships comprised athletes from the three top age groups in Scotland and for long enough we were, as a club, almost completely absent from indoor athletics.
It's therefore great to see what is definitely progress on what was a very enjoyable day for a sizeable Inverness Harriers community at The Emirates.
I would also want to point out that it's difficult enough to prepare for indoor track racing with the complete lack of indoor facilities from which we suffer. That three of our medals came from technical field events is even more remarkable.
At the Vets' CC in Dundee, Julie Wilson was 30th in the overall women's race and 6th W45 while Paul Miller was 51st in the men's.