GB Paul & Helge's Marathon Effort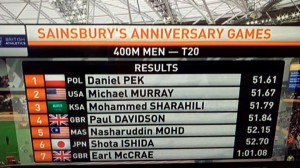 A great weekend for the club saw Paul Davidson on International duties at the Anniversary games in London.  Paul raced I'm the T20 400m and was in the thick of a very close race going into the home straight.  He hung on for 4th place in 51.84 to be rewarded with a PB in a race won in 51.61.  This will be the start of the GB athletes journey to some faster times for sure.
The new Fort William marathon route was sampled by Helge Hansen on Sunday.  The new testing course offers a mix of undulating trails and road which Helge negotiated in 2hrs 54mins for 2nd place just 5 minutes of the leader.
Well done guys!