DISTRICT CHAMPIONSHIPS – OPENING SESSION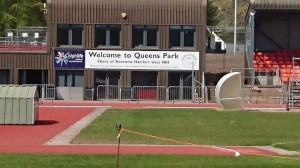 DISTRICT CHAMPIONSHIPS – OPENING SESSION
There are so many club athletes competing in these championships that I don't think it's realistic to go too far into individual performances, of which there were several very good ones this evening. The superb weather certainly helped performance levels.
Grant is reporting that from this evening's four U13 track events alone, there have already been six medals. I also randomly spotted that Mhairi Darroch and Rachel Johnstone did a 1-2 in the U15 girls' triple jump. Among those I heard being called up for medal presentations were Luke Davidson and Tony Golabek for 1500s and Heather Bruce who ran a 200m PB of 26.77 while Ross Fraser also got a 200 medal.
It's almost invidious to try to go any further and there were indeed many more medals on what has been a good opening session of the District Championships for the club.