Cross Country Update from Ross Cairns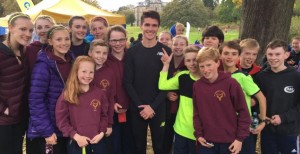 Cross Country Update from Ross Cairns
Currently traveling up the road and still awaiting senior results but attached are the Junior Boys and Girls Results.
All the athletes did the club proud and great to see the announcer mention Inverness athletes over the tannoy on several occasions. First time national races for Ruth and Leah. Fab!
Girls Team 1 Kirsty 11:00 (22nd), Emily 10:20 (20th), Sophie 11:20 (29th) for 30th from 82 Teams.
…
Girls Team 2 Ruth 12:43 (86th), Catriona 10:49 (57th) Connie 11:44 (54th) for 54th
Girls Team 3 Leah 13:08 (91st) Ruby 11:41 (78th) Rachel 11:36 (68th). For 68th
Kate Gilles ran a non counting single run of 11:40.
Boys Team 1 Lucas 9:21 (4th), Luke 9:11 (8th) Tam 8:32 (7th) for 7th from 85 teams! ……..Team of the day!
Boys Team 2 Euan 9:37 (13th), Duncan 9:47 (23rd) Finn 9:31 (29th) for 29th
Incomplete Boys Team 3 Angus 9:44, Gordon 11:33
Fantastic day for the juniors who got a visit from an Olympian Callum Hawkins after the race to make their day a bit more special.
Senior Women had a strong ladies team fishing well inside in the top 20 with a 16th place finish. Sarah 14:59 (14th), Caroline 16:01 (16th), Julie 16:26 (15th) Roma 18:17 (16th).
Men's results to follow once published (still on the bus) but my guess is top 20. All in all a great day for young and old.