Craig Dunain Hill Race – Results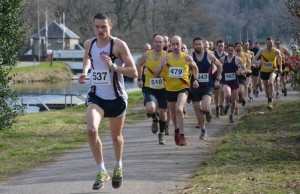 IHAAC would like to thank all the visiting athletes who made yesterdays Craig Dunain Hill Race such a success with a record field of 75 runners participating.  Particular thanks to the helpers, marshals, time keepers, course markers and caterers who made this popular race possible.
Due to significant forestry works and storm damage to the race route Billy Skinner, ably assisted by a team of moss munching short cut taking trophy craving hill billies, devised a cracking new race route which was longer and tougher than previous years yet proved very popular with all runners. The 5.6 mile route provided a great mix of trail, hill, mud and tarmac of course.
The event was won by local athlete Gordon Lennox in a time of 35.25, 2nd was James Tullie of Cairngorm (36.00) and 3rd, and winning the Las Plant Hill Trophy was Inverness Harrier Donnie MacDonald in 36.06. Despite his local knowledge Donnie was one of the only athletes to go astray despite the presence of more marshals and route marking than are at the London Marathon.
The first female was Jessica Tullie of Cairngorm (41.51), 2nd was Caroline Marwick of Inverness Harriers with 3rd going to Hilary Cameron of Forres Harriers.
The "Prestige Trophy", the annual battle between Inverness Harriers and Highland Hill Runners was initially awarded to Ross Nixon of Inverness Harriers after the initial count fell firmly in favour of the Gold and Maroons.  However, after an official complaint through the official bureaucratic channels (Dougie shouted "Oi, fix"), the numbers were re-crunched and the trophy grudgingly went back to the tartan terrors whose dubious scoring system seems weighted heavily in the favour of the moon shiners.
It was a great day which saw many runners tackling their first ever hill race. IHAAC newcomers Carrie Farnell, Joyce Lawson and Jennifer Lornie all ran well and "loved" their first Craig Dunain Hill Race.
There are loads of photos on the Inverness Harriers, North District and Forres Harriers Facebook pages.  Thanks to Phil Hindell and Hannah Rogan for taking some cracking pictures.
FULL RESULTS ARE HERE