Coaching Update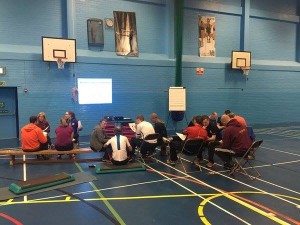 COACHING INFORMATION
The main club training sessions are on Tuesdays and Thursdays at 7pm and an adult running group ("The Joggers") meets on Wednesdays at 7pm, all at the Queens Park. Currently we are attempting to resolve coaching arrangements for the under 11 group.
A number of coaches with appropriate qualifications also arrange supplementary sessions at other times, notably Saturday mornings.
…
The club's longstanding policy on coach supervision follows that of UKA/Scottish Athletics. A coach qualified at Level 2 or above must at all times be present in direct line of sight of any coaching activity. Any coaching with no such supervision fails to meet governing body and insurance requirements. It is not therefore sanctioned in any way by the club, which would disassociate itself from and actively discourage any such activity.
Inverness Harriers coaches with a Level 2 coaching qualification or above are:- Charlie Forbes (Level 3), Charles Bannerman (3), Harry Lakeland (3), Ross Cairns (3), Duncan Flockhart (Level 2), Wendy MacIntosh (2), Dianne Chisholm (2), Graham Laing (2).
We also have a number of Level 1 coaches and coaching assistants who are entitled to coach at any time when a Level 2 coach or above is present.