CLUB RACES – CHRISTMAS RELAY AND NEXT HANDICAP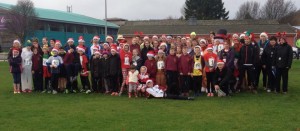 CLUB RACES – CHRISTMAS RELAY AND NEXT HANDICAP
The annual Christmas Relay takes place from the club hut at the track on Sunday 18th December with an earlier entry time than for the handicaps due to lack of daylight and the need to draw teams.
Declarations will therefore have to close at 12 NOON SHARP so the draw can begin. As usual, it will not therefore be possible to accommodate latecomers. The race, which is on the Bught, will start as soon as possible thereafter.
All club… members, even those who do not normally compete in distance events or indeed compete at all are very welcome to take part. Runners will be seeded into four or five groups to run 0.5 up to 2.0 miles with the teams drawn by lot from these groups.
THIS YEAR THERE WILL BE NO NOTICE IN THE CLUB HUT ASKING FOR NAMES IN ADVANCE.
Once again, runners are asked to bring along some food for the post-race catering.
The next club handicap – with the Peter Thompson Memorial Quaich at stake for the seniors – is on Sunday 21st January over new courses. In order to reduce wear on the previous Bught route and to avoid what would in effect be another parkrun, we are going to use the new pathway on the golf course side of the canal at Jacobite Cruises.
Both courses will be "out and back" with the long race 4 miles and the short one 1.5 miles.