Club Handicaps Start THIS SUNDAY – Get down and support the club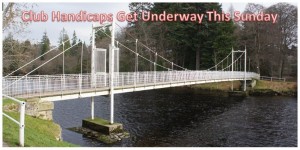 This Sunday sees the start of the Club Handicap series and it is hoped this years series will be well supported.  The junior events have consistently been well supported but the club would really like to encourage all Seniors to make an effort to run the events.  Back in the day, the club handicap would see all the clubs seniors get out and have a good run on a Sunday afternoon, either to shake off the effects of their Saturday race or Sunday hangover, often both.
The race format encourages runners of all abilities to participate as athletes with a slower running pace are given a head start with the goal being to have all runners crossing the line as close together as possible.  The handicappers make every effort to ensure a fair and equal race with handicaps adjusted after each race.  The coaches will set the junior handicaps with Ross Nixon and Billy Skinner continuing to set the seniors, both Billy and Ross can be bribed very easily.
This year the handicap races are detailed below; Registration opens at 1pm at the club hut for all races and everyone is encouraged to bring along some sandwiches, home baking, biscuits etc.  Junior races kick off approx 1.30pm with Seniors off at 2pm. The races are £1 for juniors and £2 for seniors.
Sun Oct 20 – Holm Mains club handicap
Sun Nov 24 – Craig Dunain club handicap
Sun Dec 8 – Kinmylies club handicap
Sun Dec 15 – Christmas Relays (Bught Park, fancy dress encouraged)
Sun Jan 5 – Bught club handicap (likely to be on new Canal Park route)
Sun Feb 2 – Possible Extra club handicap
Sun Feb 9 – Club CC champs (Hidden Handicap)
See you all this Sunday.  Any questions contact Ross Nixon or Keith Geddes