UPDATED AGAIN! – Club Handicaps – Latest Standings and Bught Results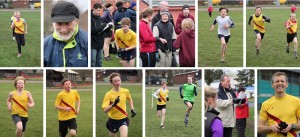 A great turnout of club members young and old took on the new figure of 8 course around the Bught Park.  Crisp conditions underfoot saw some great times and performances with James Geddes recording a cracking 5.17 for the mile and Craig Campbell racing through the field to record a 16.20 for the 3 mile course.
Results -
Latest Junior Standings after 4 races
The senior handicap titles are still wide open with the Club Championship (Hidden Handicap) Race on 9th February set to decide both winners.  The Ladies title is between Jenny Bannerman, Alison Wilson, Caroline Marwick and Ann Smart.  Caroline and Anne must run the race to be in contention as they have only competed in 3 of the 4 previous races however a strong performance from either lady could see them leap frog Jenny and Alison.  In the mens title race there is a 3 way tie at the top with Hugh Marwick, Ross Nixon and Tom MacWilliam all on 381 points.  With the title being decided on the best 4 out of the 5 races, Hugh looks like the favourite but with Tom and Ross only a second apart at the Bught it could be a cracking finale.  Lets just hope that the handicapper is on the ball on the day.
Pictures courtesy of Roma Shepherd are available HERE