CLUB HANDICAP – THIS SUNDAY – 24th NOVEMBER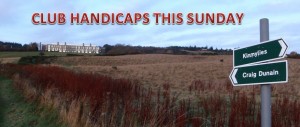 CLUB HANDICAP – SUNDAY 24th NOVEMBER
It would be great to see as many as possible down this Sunday 24th, for the Club Handicap Races. This is race number 2 in the series and for the Juniors it is the Charleston woods leg and the Seniors the Craig Dunain. Juniors is just over a mile, Seniors is closer to 3.4 mile. 1.15 registration £1 for juniors, £2 for Seniors plus bring along some biscuits. Great training for Nairn XC. Please spread the word.  The junior race is always well attended and it would be great to see another few Seniors supporting this long running traditional race series.