CLUB HANDICAP – SUNDAY 29TH JANUARY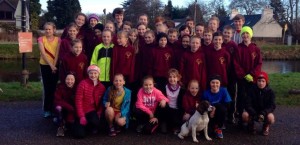 CLUB HANDICAP – SUNDAY 29TH JANUARY
This is just another reminder that the club handicap which was originally scheduled for Sun 22nd, will now take place this Sunday, the 29th, with the usual arrangements.
At the last committee it was agreed to run the races on the canal banks given the state of the Bught and a desire to avoid having effectively yet another parkrun. Ross Cairns has asked to have the junior races on grass, perhaps at Canal Field, as preparation for the National Champs. I would imagine there would be no objection to this.
The current plan for the seniors is for a 4 mile "out and back" on the canal banks but if anyone has an alternative of known distance then perhaps that cold be considered.
On the assumption that the senior club championship course for SATURDAY (note) 4th Feb will still be closed by the Council due to flooding, we may well be looking for somewhere to run then as well.
PLEASE NOTE – I am only the messenger here. I have no role at all in organising these club handicaps and, in the case of the senior event, I'm not sure who does!