Club Handicap Series – Race 1 Results and Photos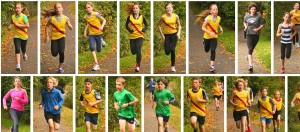 There was a good turnout for today's first Handicap race. A total of 49 runners (12 girls, 20 boys and 17 seniors) took part in the 1.25 mile junior race and 4.2 mile Senior race. Melissa Mack won the girls race with Craig Wilson winning the boys event. In the seniors race Lisa Macrae won on her debut as a harrier with a superb 33mins and 12 secs. Senior results are HERE, junior results are HERE - An excellent set of photos courtesy of Andy Shepherd are on the Photos tab of the website.
Many thanks for all the help from parents who acted as marshals and big thanks from Mary Payne and Janis Wilby for doing the timekeeping and to Joan Mack for helping at the start/finish line and to Avril Geddes for doing the teas after the races.
The Senior race was well attended with 17 runners although it is hoped that a big effort can be made to get a few more out for the Craig Dunain handicap race on Sunday 24th November.  The handicappers had drawn on a vast array of data to ensure that the race was handicapped fairly.  Officials were therefore delighted as all runners finished within a couple of minutes of one another, that newcomer Lisa Macrae won and, perhaps most satisfying, Billy Skinner was last.  Jenny Bannerman was second and Jackie Mair made a good return to racing in 28.56 and says she now can't wait for the next cross country race.  Stephen Mackay had the fastest scratch time with 23.17 having set off about an hour behind front runner and new life member Charlie Jarvie.  Jenny Bannerman and Ross Nixon had the same time of 24.38 (although Nixon is convinced he saw Bannerman get a seater on the back of Charlie's bike down the Holm Hill!).  Mountain specialist Alec Keith was only 1 second adrift of Bannerman and Nixon, however the race was about 40 miles too short for Alec.
Gregor Maclennan had a great run of 27.06 having stepped up to the senior race series 2 years ahead of schedule.
Well done everyone, photos to follow.