Club Handicap Race and Weekend Action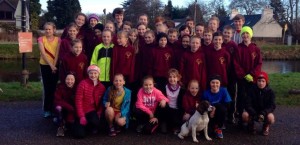 There was a great turnout from both Juniors and Seniors alike for Sundays 3rd Handicap race in the IHAAC handicap series. Runners were treated to another cracking day with conditions ideal for fast running.  Junior results will be posted ASAP.
Senior results are Available HERE
Some cracking photos courtesy of Andy Shepherd are on the website HERE
TAIN TRAIL RACE – Billy "3 races" Skinner was the highest Harrier at Saturdays Tain Trail race finishing 9th.  The ever modest Skinner never mentioned his exploits at both Parkrun and Tain prior to graciously accepting a stiff handicap at Sunday afternoons handicap race.  Alison Wilson also ran at Tain, finishing 2nd lady and 19th overall. Results HERE
DRUIM FADA CHASE – FORT WILLIAM
Stewart Wilson made the torturous journey along the A82 early on Sunday to compete in the Druim Fada Chase – 12.5k hill race with 350metres of ascent.  Not content with this Stewart quickly returned to complete the club handicap too.