Club Handicap Race 3 – THIS SUNDAY (8th December)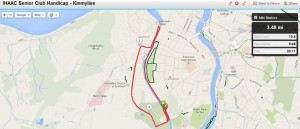 This Sunday – 8th December sees the next race in the Club Winter Handicap Series.  Meet at the track at 1pm.  Junior race is at 1.30.  Seniors race is at 2pm.
£1 for kids and £2 for seniors.  Bring along some biscuits or cake for after please.
Juniors race is on the Canal Pitch whilst the Seniors route is a 3.5 mile route on the Kinmylies Loop – Click Here for the Seniors Race Route
There were 26 seniors at the last race and it would be great to match or exceed this number so please spread the word.
See you there