CLUB HANDICAP (29TH JANUARY) AND CLUB CHAMPIONSHIPS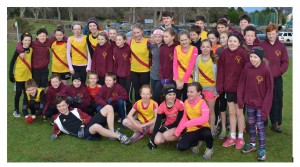 CLUB HANDICAP (29TH JANUARY) AND CLUB CHAMPIONSHIPS
HANDICAP – SUN 29 JANUARY: On the request of the junior coaches, the short course races will take place on the Bught. In the case of the senior race, the committee agreed on a 4 mile out and back on the West bank of the canal and this will be the case if a volunteer with a Garmin is able to mark a turning point. Otherwise it's whatever can be cobbled together on the day. For handicapping purposes, both distances will need to be known accurately.
The usual arrangements – register 1pm for a 1:30 first race apply.
CLUB CHAMPIONSHIP – SAT 4 FEB: Ross Cairns has developed a 2.75K junior course in Canal Field/Whin Park. The senior course devised by Ross Nixon in 2013 was closed long term by the Council due to flooding and it's not clear if this is open again. It strikes me that two laps of Ross Cairns' junior course (5.5K) would be an adequate substitute. I will not be there on the day to participate in any deliberations.
Again, register at 1pm for a 1:30 first race.