Club Championship on Saturday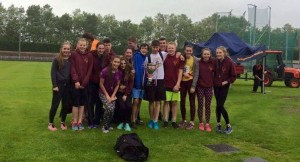 Change of registration deadline for Club Championships tomorrow… from Peter Marwick
Tomorrow's Club Championships will be unusual, in that the under 11s (who are not competing in Super Teams on Sunday) will be running a separate course from the rest of the kids. Handicap points will still be awarded, these will be calculated on race pace times. However this means that there are three kids races, which will need to take place before the senior race. After the kids races, the timers, marshals, etc will make their way from the rugby pitches to the canal west bank for an out and back senior course. Note that all races will be hidden handicaps, with all runners starting together (perhaps with the exception of U-11s if there are enough competitors to make handicapping worthwhile). This means pre-race admin is reduced so earlier senior registration is not essential.
Realistically, the senior race won't start until 2:15pm at the very earliest, more likely 2:30pm. As such, I think insisting on a 1:15pm registration deadline for seniors is not ideal. It was me who asked for this last week, so I apologise for the confusion. The intention is to save people hanging about longer than necessary after registration, we will set general guidelines which apply to all races for next winter's handicaps.
Registration will open by 12:45, we will probably be down by 12:30. Please could everyone ensure they are registered by the following times, to allow the races to start on time. Closing times will be strictly applied, please don't turn up late and expect to be entered…
Juniors: Registration closes 1:15pm, first race 1:30pm at the rugby pitches.
Seniors: Registration closes 2:15pm. I will be in the hut until around 1:25, then will go to the rugby pitches to watch the juniors. We will continue to take senior registrations until 2.15pm at the rugby pitches (or canal), so there is no need to register early for this race. This ONLY applies to this event, as it is a hidden handicap.
All registrations will be taken for all events from opening time. Please pass this on to any members who don't have access or regularly check Facebook. Thanks