Club athletes ready to be put in Pole Position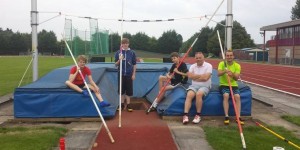 This weekend might be the final track and field meeting of the "summer" but the club are already preparing for a winter of focused training with a number of opportunities for club athletes to receive tips from top national coaches.
Next Friday (16th September). The club are delighted to welcome national pole vault coach Brian Donaldson and national pole vault record holder Jax Thoirs for a pole vault coaching session for u15s  and above. Spaces are limited so if you wish to come along, contact Duncan Flockhart to reserve a space.
The session will take place at the track from 5-7pm on Friday 16th September