CHRISTMAS RELAYS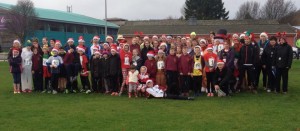 CHRISTMAS RELAY – SUNDAY 18 DECEMBER – ANOTHER REMINDER
The event is for teams of four drawn randomly from four pools with athletes running 0.5 – 2 miles depending on the pool they are in.
It is MOST IMPORTANT that everyone has declared at the Queens Park by 12 NOON since seeding of pools will begin at that point and no-one can be added after this has started.
After teams have been drawn, we will then proceed to the Bught where the race will start as soon as possible.
The entry fee is £1 but please also bring some food for afterwards.
The Christmas Relay is open to ALL club members, not only those who take part in endurance events. You will be seeded to a suitable distance.