Christmas Relays – Sunday 16th Dec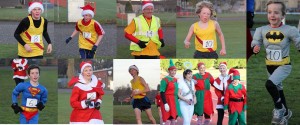 Well done to all who took part and helped in the xmas relays on Sunday it was so good to see so many there supporting the Club.  A big well done to all those who were brave(or silly)enough to dress up it was good to see so many making the effort it was a shame everyone couldn't get a prize.
Some great photos of the day courtesy of Andy Shepherd and Grant Hassan are on the Website Gallery.
Click here to view full gallery.