CHRISTMAS RELAY – SUNDAY 15th DECEMBER – 12pm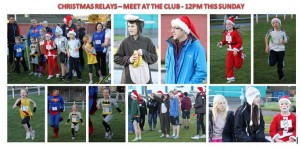 CHRISTMAS RELAY – SUNDAY 15th DECEMBER
Please note that there is an earlier start for this very popular event, with all runners asked to be at the clubrooms in the Queens Park for NOON with the start scheduled for as soon as possible after that, once the teams have been drawn.
It is important that everyone is there by noon since there is a random draw to select the teams and all runners have to be declared before it begins. Laps range in distance from half a mile to 2 miles on the Bught.
Unfortunately if you arrive after the draw has begun, we will be unable to include you in a team.
Cakes, sandwiches, biscuits etc are once again requested.