Challenging Debut for Jenny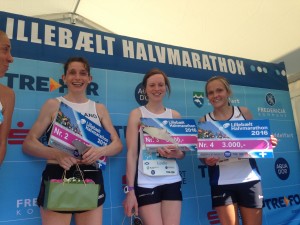 As if having to contest her first half marathon on her first international appearance wasn't enough, Jenny Bannerman had to face a perfect storm of difficulties before she could take fourth place for Scotland in Saturday's (May 7th) Lillebealt Half Marathon in Denmark.
Because, apart from these challenges, the race went ahead in searing conditions of heat and a strong wind and then, not long after the start, Jenny also realised that she was feeling quite unwell. However she battled on and finished the race and, although she just recorded 88:39, she still managed to hold on to fourth place. With Commonwealth marathon runner Hayley Haining second in 78:48 and Lesley Pirie third in 81:50, also well outside their best times, there was an array of three Scottish runners on the prize podium. Jenny received precautionary medical attention in Frankfurt on the way home for what appears to be a viral complaint.
"I knew about 4K into the race that I had a serious problem over and above the heat, which I later found out had some of my team mates thinking about dropping out," she said. "My legs steadily stopped working and as for my final time, well I do steady training runs faster than that. Before the weekend I had planned to use our stop over at Frankfurt Airport on the way home to get my Sunday run done, but instead I found myself in the airport's medical centre because I felt even worse the day after. On the other hand it was a great experience and I was so glad to be able to hold on to complete the run of Scottish performances."