Celtic Games Success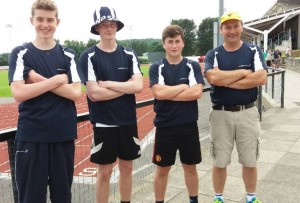 After a journey which took 12 hours on a bus Paddy Dunne u18 Javelin, Finbar Dunne u16 Discus and Stephen Mackenzie u16 High Jump all represented Scotland at the Celtic Games in Swansea. With Duncan Flockhart as throws coach to the Celtic Team, the club were well represented at this prestigious event.
Like the weather in Swansea the athletes and coaches performances were scorching. Stephen Mackenzie won gold with a jump of 1.84. Paddy Dunne won silver with a throw of 57.33 a new PB and Finbar Dunne won silver with a new PB of 42.22.
Well done everyone.