All over the place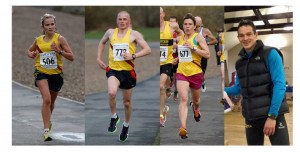 ALL OVER THE PLACE! from Charlie Bannerman
Brodie… Strathpeffer…. Renfrew… Leeds……
These are all places where Harriers' members can be found over this busy weekend coming up.
On Saturday, the North District hill championships take place at Knockfarrel, Strathpeffer and a good presence is expected from our club.
This race taking place less than 24 hours before Sunday's Brodie Castle 10K near Forres may have affected entries at Brodie from club runners in general who seem to be in quite short supply. Our own club seems to have relatively few men entered (PLEASE NOTE THERE ARE NO ENTRIES ON THE DAY HERE) However Sarah Liebnitz appears to be the strong women's favourite with Lesley Hansen (Clarkson) and Caroline Marwick also expected to be in the front group of women.
There will also be Harriers athletes, although not perhaps as many as first hoped, at Saturday's national short course cross country championships in Renfrew. However we will be represented across the junior and senior races in this national competition.
Finally, our two senior international distance runners are both in action in Sunday's Leeds Abbey Dash 10K which is the England Athletics, effectively the British, championship at this distance, so should be packed with top talent.
Cross country internationalist Mhairi MacLennan will be competing for Edinburgh University while Jenny Bannerman will be hoping to match last year's top 20 finish.