ANNA NELSON SIGNS OFF WITH TRIPLE GOLD HAUL AT SCOTTISH SCHOOLS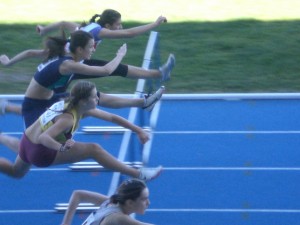 Some of the younger Harriers were in action for their schools on Friday and Saturday in Grangemouth at the Scottish Schools Championships where Anna Nelson stole the show with her final appearance at the Scottish Schools with three gold medals in the 100m hurdles,400m hurdles and the high jump where she once again dominated the field this rounded off a good week where she took gold in the Scottish Schools Pentathlon with five PBs.
Also taking gold home for her school was Mary Flockhart who continued her great season form winning the javelin despite carrying a shoulder injury and narrowly missed out on the discus finishing fourth.George Evans took home two medals,on the Friday he won silver in the discus where he lost out by only 6cm and on the Saturday repeated the feat in the shot putt taking silver again where he threw two PBs in both events.
Other silver medal winners were Alison Horne in the shot putt who also finished 4th in the discus,Sean Chalmers in the 800 mtrs who also ran his last event in the Scottish Schools before heading off to America to start his athletics scholarship,Daniel Wilby kept his 2nd place ranking on the power of 10 with 2nd in the javelin adding nearly 4mtrs to his PB and Alex Geddes continued his impressive form with another good display to take his first Scottish Schools medal.
Katie Sneddon also ran well on the friday and managed a bronze medal in the 400mtrs,there were also some good performances from Gillian Gordon who finished 5th in the 300mtrs,Rhiannan Mcintosh finished 5th in a fast 100mtrs,Maya Stewart-Rizza who managed to finish 5th in the 75m Hudles and James Geddes who did well to finish 8th in the 1500mtrs final despite having to run a heat only two hours beforehand and still managed a respectable 4 mins 41 sec.
It was a good two days for the young harriers in difficult conditions where temperatures reached 24 degrees at some points in the afternoon.